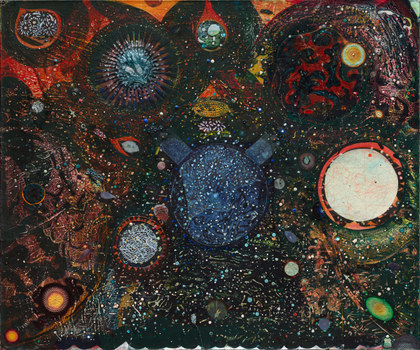 Some Breathe Iron
In Memorium, Sally and Ernest Horvath
Collection, Cleveland Museum of Art
STARTING POINTS/INSPIRATION :
1. My father Ernest Horvath
made his last sketch in a Cleveland Clinic hospital room with a red pen on a white paper bag. He drew clouds and wrote a note:
"Clouds From my Room-Future Painting".
As he didn't live to paint his "Future Painting" I thought I'd try to channel that energy into my own painting and paint his clouds, based on his sketch.
2.
The painting
WAR
by Henri Rousseau. You know the one with the girl-child on the flying black horse. She was a sort of outraged muse for this body of work.
3.
The book
Italo Calvino's
Cosmicomics
, A collection of stories narrated by a shapeshifter who speaks with the voice of a mollusk, a spector who witnesses the first rainbow, a lovesick sub atomic particle named Qfwfg.
MATERIALS
PAPER MOUNTED ON CANVAS WITH Silica Flat as an adhesive
ACRYLIC—I mix myself --dispersed pigment and silica flat binder (Guerra Paint and Pigment)
Sennelier colored inks
Colored pencils and graphite
Collaged drawing fragments, etching and newspaperphotos, printed fragments of mother's art school doodles
Ceramic fragments, sand, ashes, iron oxide
Paint "medallions" dried on glassware in the studio
Phosphorescent pigments
Back of canvas: Green ink letter from Sally Horvath from Alfred U to Ernest, 1955? (They both graduated from CIA eventually)
PROCESS: Ritual Doodling 2011-2016
1.
Some Breathe Iron started as a big doodle/cloud study in 2011 on paper. Heavyweight Fabriano rag paper is strong enough to be dragged through the sand and washed in the ocean, which is what I did with it in the summer of 2011. (Summer in Truro, Cape Cod) It was an act of expiation, drawing, erasing, painting, washing, and painting. The first go round on this painting is not visible, but present underneath.
2. Back in Brooklyn, Navy Yard studio this work on paper was abandoned a couple of times and became a surface on which I tried things out for larger canvases. It was a throwaway, until one day it spoke up, through a witchy combination of dark blue-ish sea clouds, sanguine, iron oxide and saffron gold shapes. And so I mounted it on a canvas to work on more seriously
3. In 2013 I went to India (Fulbright) for four months, leaving behind a group of unfinished paintings in the studio.
4. Returned to Brooklyn with new works on paper and my well-read volume of Italo Calvino's
Cosmicomics
and a fresh eye in the studio.
5. The painting "finishes itself" with added clarity on my part in regards to space, scale, time and humor. "Some Breathe Iron" refers to the microbes who find themselves so far underground, without oxygen, and evolve to breathe heavy elements, including iron.
Some Breathe Iron
was finished when I looked at it and thought: The cycle of the painting moved through cloudy atmospherics to the heavy density of the underworld and back to air, iron air. In the world of the small, too microscopic for us to see, the tiniest forms of life are breathing minerals. On the other hand, the cosmic scale up "above" is too enormous for us to perceive fully. As humans we are stuck in the middle ground, picturing these two extremes. I'd like viewers of my painting to come away with thoughts about our size amidst the buzz of particles and stars.